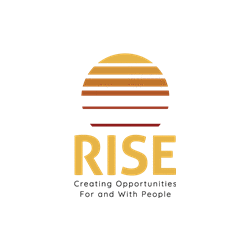 Rise Services, Inc.
ID Residential Assistant / Medication Aide - Boise (61056)
Boise, ID
THE COMPANY
Since 1987, RISE has provided practical, professional, and personal growth opportunities for children, adults, and their families. With our innovative approach, we are dedicated to transforming the lives of the individuals and families we serve through the delivery of person-centered services.
Our services have expanded from moving individuals living in institutions to family settings into supporting adults and children with highly diverse support needs in a wide variety of homes and community-based settings.
THE POSITION
Were hiring for a Residential Assistant/Medication Aide to support adults with developmental disabilities living in a residential setting. These staff advocate for their residents by promoting resident choice, support them in their daily living tasks, such as hygiene, meal prep and administration of medications, and ensure residents thrive and live fulfilled lives. Successful candidates for this position are passionate about making a difference in peoples lives and helping people achieve their goals.
Shifts are from:
2:30pm - 10:30pm (swing shift)
POSITION EXPERIENCE & EDUCATION REQUIREMENTS
Must be at least eighteen (18) years old
High school diploma, preferred
Must be over twenty-one (21) years if required to drive a RISE vehicle and meet other requirements as specified by the CPI/RISE Insurance Agency
Must be CPR/First Aid certified, or willing to attain certification upon hire
Must be Medication Aide certified, or willing to attain certification upon hire
Must be willing to complete necessary orientation training (minimum 16 hours) within the first 30 days of hire, and maintain a minimum of 8 hours of continuing education training annually thereafter
Experience and education in the field of developmental disabilities or related field, preferred
Must have a desire and interest in working with people with disabilities or special needs
Must have verbal and written communication skills adequate to the specific job
Must be able to pass State and Federal Background Check through the Department of Health and Welfare
Specific language abilities (other than English) may be required to meet the needs of people/families receiving support, and demonstrate a knowledge of and respect for cultural differences
Reliable transportation to the work site and access to a telephone.
ESSENTIAL FUNCTIONS
Assists people (as applicable to the person) with the following supports:

Daily living

Hygiene

Intimate care

Meal planning/preparation/clean-up

Mobility

Encouraging relationships

Accessing their community

Lifting/transferring

Therapeutic objectives

Behavioral supports to include redirecting and/or physically supporting people using approved techniques

Adequate supervision

Medication and medical issues when indicated. Shall follow medical protocols and doctors orders and implement specialized interventions for dealing with unique health needs as required

Other needs as identified by the team

Supports people in achieving outcomes identified in the persons plan; this includes keeping required documentation and any prescribed or related task(s)

Acts as an appropriate role model and supports people in using appropriate language, dress, table manners, respect, and other behavior as needed

Ensures that clean and safe environments are maintained

Quickly and effectively responds to all emergency situations that include but not limited to such as a fire, application of First Aid, CPR, approved medical protocols, and behavior intervention are some examples

Follow RISE personnel practices and policies which include (but are not limited to:

Reporting to work on time as scheduled

Refraining from excessive absenteeism

Obtaining prior approval by following established procedures when time off is desired including reporting to your supervisor (per RISE policy) for absence from work

Work all hours as scheduled

Attend staff meetings and other mandatory training as required by RISE

Follow all RISE and State policies and procedures

Maintains necessary records, logs, and other documentation as required per ISPP, RISE policy and State requirements and DDD division requirements
BENEFITS
Medical/Dental/Vision
PTO/STOA
Premium Holiday Pay
Paid Parental Leave
AFLAC (Accident, critical illness etc.)
HSA/FSA
403(b) Retirement Plan
EAP
Mileage Reimbursement
88853373
88853373